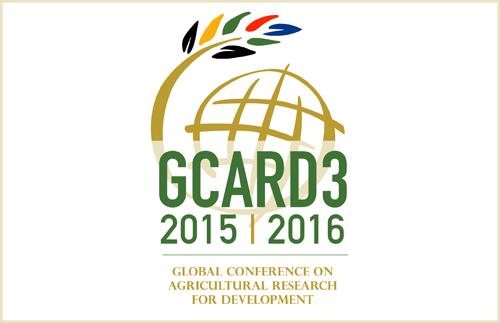 A range of agricultural issues was robustly debated at the recent Global Event of the Third Global Conference on Agricultural Research for Development (GCARD3) in South Africa. What made the event exceptional was the way it engaged local farmers while also facilitating the research priorities of national governments, in line with their production objectives.
GCARD3 brought together stakeholders involved in agricultural research and development from around the world. Organised by the Global Forum on Agricultural Research (GFAR) and the CGIAR, and hosted by the Agricultural Research Council (ARC) of South Africa, in Johannesburg, the meeting was based on the theme "No one left behind: agri-food innovation and research for a sustainable world". Participants included farmers, women groups, youth groups, media groups, students, researchers, private and public sectors, representatives of national governments and policy makers. This represents an interesting departure from conventional conferences where participants are drawn solely from a narrow field of expertise.
Invited guests and key speakers reflected on the roles of agriculture in addressing food insecurity and reducing world hunger. Dr. Lindiwe Majela Sibanda of the Food Agriculture and Natural Resources Policy Analysis Network (FANRPAN) advocated increased participation of rural female farmers in decision making processes in agricultural policy. She also canvassed for a shift away from climate-unfriendly agricultural practices to a more sustainable "climate-smart" agriculture, highlighting how the effects of drought and climate change on food production could be minimised.
One of the most interesting sessions was the plenary session moderated by Dr. Kwesi Attah-Krah of CGIAR, in which selected country representatives gave a detailed report of the engagement processes with various stakeholders involved in implementing CGIAR programmes in their countries.
In a breakaway session, Aboubakar Njoya presented a fascinating report on streamlining agricultural research in line with the production needs of national governments. He talked about a West African agricultural productivity programme implemented by the West and Central African Council for Agricultural Research and Development (CORAF/WECARD). According to Aboubakar Njoya, participating countries decide on their agricultural production needs such as aquaculture, livestock farming, grain or tuber crops based on their strengths and weaknesses. CORAF/WECARD will then assist the countries in setting up centres of excellence which cater for the needs of the countries and the region as a whole.
The CORAF/WECARD approach to agricultural research could be adopted by research institutions, and universities in particular. Research and higher learning institutions can contribute more to society if their research priorities are more aligned with the agricultural needs of their governments. It is believed most research conducted ends up gathering dust on the shelves.