The annual meeting of the Director Generals (DG) of AIRCA (Association of International Research and Development Centers for Agriculture) was held on 10 February, 2017 at the Food and Agriculture Organization (FAO) headquarters in Rome, Italy. 
Chaired by Prof. Sayed Azam-Ali, AIRCA DGs discussed joint action plans for 2017. One of their main initiatives is the Global Action Plan on Agricultural Diversification (GAPAD) that was proposed at the COP21 UNFCCC Climate Meeting in Paris in 2015. GAPAD will support the United Nations Sustainable Development Agenda 2030 by showing how agricultural diversification can help achieve food and nutritional security, alleviate poverty and provide new opportunities for more environmentally sustainable agricultural systems.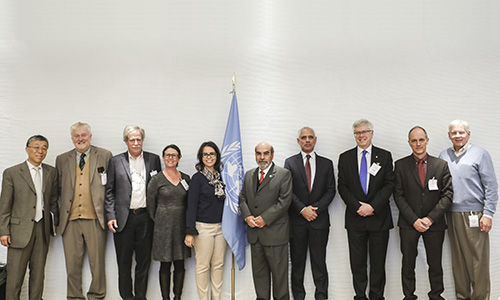 Left to right:
Ren Wang
, FAO Assistant Director General, Agriculture and Consumer Protection Department
Dyno Keatinge
, AIRCA Ambassador
David Molden
, DG ICIMOD
Marita Dieling
, AIRCA Executive Secretary
Ismahane Elouafi
, DG ICBA
Graziano Da Silva
, FAO Director General
Sayed Azam-Ali
, CEO Crops For the Future
Trevor Nicholls
, CEO CABI
Marco Wopereis
, DG WorldVeg
Scott Angle
, CEO IFDC
Picture: FAO
The AIRCA members also attended a high-level meeting with the FAO Director General, Dr José Graziano da Silva, and discussed the need to diversify the global food basket beyond the world's major staple crops. Speaking after the meeting, Prof. Azam-Ali said, "it was an honour for us to have such a positive meeting with Dr José Graziano da Silva and explore how AIRCA can work with FAO to deliver a global evidence-base for dietary diversification. We are excited by the FAO DG's vision to promote 'forgotten foods' that are nutritious and desirable to consumers. We also look forward to working with FAO on how GAPAD can help meet the agricultural needs of a hotter, more volatile world."

About AIRCA
AIRCA is a nine-member alliance focussed on increasing global food security by supporting smallholder agriculture within healthy, sustainable and climate-smart landscapes. For more information, visit www.airca.org.